July 23, 2014 in Toyota Cars by admin
Here is the good news for car racers, Toyota GT 86 has been unveiled with revised suspension, enhanced interiors and with a new technology incorporated for cohesive balance for a ultra rear wheel drive. Currently, Toyota 86 is considered as the most powerful sports car in the market powered by a 2.0-litre 197bhp Boxer engine.
Nissan 370Z is one of the toughest competitors for Toyota but this time Toyota 86 hits the box with its low weight and excellent driving features making it massively fun to drive. To enhance the smooth drive it is stuffed with six-speed automatic gearbox. The new revised suspension is meant to deliver the better quality ride.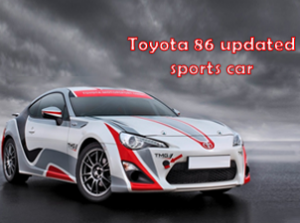 The most admirable feature of Toyota 86 is its cohesive rear-wheel drive which provides the perfect balance in gliding through the turning corners. Stability control, instant operable brake system, limited-slip differential with side secured seven airbags gives the utmost security feel to the racers.
The coupe is designed with the regular 2+2 interior model. But it can hardly accommodate only 2 adults in the front portion. The seats are comfortable and it is specially designed to provide the fine grip against collision. It operates on an efficient petrol engine and with automatic gear box it manages 39.8mph and emits 164g/km. Toyota GT 86 provides an impressive handling mechanism with better stuffed features satisfying the needs of driving enthusiasts.