June 6, 2013 in Ferrari, New Cars by admin
The Ferrari 458 Spider is mechanically equal in most respects to the Italia; the Spider a sonorous 4.5 liter direct injection V8 that shifts through a seven speed dual clutch automated manual conduction. The V8 cranks out 562 horsepower at a staggering 9,000 rpm and 398 lb ft of torque at 6,000 rpm, which combines with its 3,153 lbs, curb weight to help the 458 Spider scoot to 62 mph in just under 3.4 seconds. Standard carbon fiber brakes are very fade resistant and effective at bringing the 458 Spider down from extralegal speeds.
The aluminum roof, the first such application on a mid rear engine sports car, saves around 55 lbs. over a more traditional cloth roof. In order to free up real estate for the large paddle shifters, Ferrari has done away with steering wheel-mounted stalks and relocated a host of secondary controls to the steering wheel. Other ergonomic elements of the 458 are also a bit off-beat, such as a instrument cluster that displays the navigation system or the speedometer – but not both at the same time.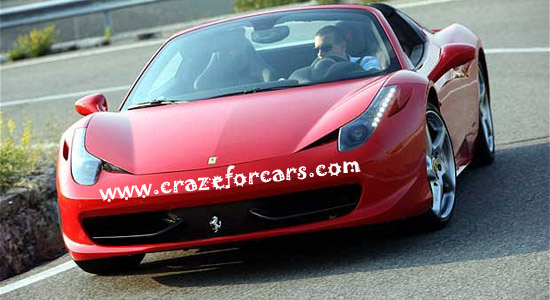 The roof stows just ahead of the engine bay and its compressed dimensions meant that Ferrari was able to add a small rear bench for additional luggage directly behind the front seats. Given that most roofs would hide away where the 458 Spider's V8 engine resides, certain engineering feats had to be achieved. Like the hardtop, the 458 Spider also offers some storage room under its front bonnet.