You are browsing the Blog for NewYork-motor-show.
March 28, 2013 in Auto News, Cute Cars, expensive cars, Motor Show, NewYork-motor-show by admin
At the New York auto show, Audi exposed details of its long-awaited A3 update, a completely redesigned car with tech features inherited from its big luxury brothers in the Audi lineup.
Audi showed off the cabin tech for the new A3 model at 2012 CES, setting the first milestone for what looked like a highly expected update. And while Audi put the updated A3 in sedan and Sport back form on the stage in Geneva and Paris last year, it is only now that we get to see the U.S. version of the car.
Audi equips the new A3 with the same cabin electronics, and more, as its bigger vehicles.
The sedan looks to be Audi's main model, presented with both turbocharged gasoline and diesel engines. The Sport back version, more closely similar to the current A3 model, will come out as a plug-in hybrid, likely using a similar drive train configuration to the new Volkswagen Jetta Hybrid. And will also offer an S3 sedan version with a high output 2 liter engine.
Audi A3 uses a new take on Audi's MMI controller, keeping the dial and four button arrangements but embedding a circular touch pad on top of the dial. Drivers will be able to trace letters on the touch pad for alphanumeric input to the infotainment system.
The Audi A3 will get an always-on 4G LTE connection to power Google Earth combination with its navigation system. The current A6, A7, and A8 models use a 3G connection for their navigation systems, which show spectacular satellite imagery for the terrain through which the cars drive.
One of the most moving features in the new A3 is app integration, something that Audi has been lacking. With a phone connected to the car's Wi-Fi, drivers will be able to access certain apps, such as social media, through voice command. Expect that feature to roll out in updates to other Audi models, as well.
August 13, 2012 in New Cars, NewYork-motor-show by admin
Date: March 29th – April 7th
Venue: Jacob Javits Center, New York
History of New York Automobile Show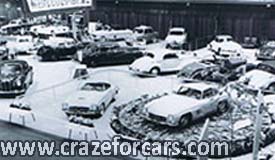 The New York International Automobile show was first held in 1900 and it was the first North's automobile exhibition. For over hundred years, through depression, struggle, boom-time, oil crisis, tough economy and growth, it has continued its pioneering own tradition of delivering new as well as innovative ideas to a countrywide and world stage. In the last several years, the show has enhanced by announcing the number of new vehicle reports, damaged presence results, and improved media attention to outstanding levels.
Combined with City's energy, and the fact that New York is popular city and country's greatest market segments for completely new automobile sales and this show is the most important automotive events in the world.
Moreover to its Location as one of the greatest public shows, NYIAS has extended its range of world-class trade and trade events. Right now, nearly 100 individual events, meetings, industry forums, symposiums, award ceremonies, roundtables, and parties occur during your Show's mass media Survey 7 days.
The Show provides almost every model vehicle available in the U.S. under one roof providing customers the exclusive probability to see everything the auto market has to offer. From fuel-sipping economic cars to most important supercars, NYIAS has something for everyone.
So come for a check out, and see what's driving you!
2012 Galleries: