function loginValidator() { var title = document.getElementById('title'); var caption1 = document.getElementById('caption1'); var caption2 = document.getElementById('caption2'); var username = document.getElementById('username'); var email = document.getElementById('email'); var location = document.getElementById('location');
if(notEmpty(title, "Please enter Image Title")) { if(notEmpty(caption1, "Please enter your caption1")) { if(notEmpty(caption2, "Please Enter Your caption2")) { if(notEmpty(username, "Please enter your Username")) { if(notEmpty(email, "Please enter your Email-Id")) { if(emailValidator(email, "Please enter a valid email address")) { if(notEmpty(location, "Please enter a Location")) { return true; } } } } } } } return false; }
function notEmpty(elem, helperMsg) { if(elem.value.length == 0) { alert(helperMsg); elem.focus(); // set the focus to this input return false; } return true; }
function emailValidator(elem, helperMsg) { var emailExp = /^[\w\-\.\+]+\@[a-zA-Z0-9\.\-]+\.[a-zA-z0-9]{2,4}$/;
if(elem.value.match(emailExp)) { return true; } else { alert(helperMsg); elem.focus(); return false; }
}
Share Your Crazy Cars Images Here
There is a saying "soul never thinks without picture and any information portrayed with best pictures get good response". Considering this, I would like to give my website viewers some stylish and smart car pictures on the website. If you are crazy for cars then I would love to have the pictures of elegant cars over here.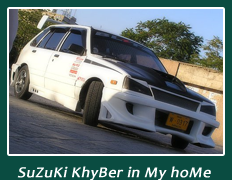 If you have the pictures of stylish, branded, old, and traditional, sports or any funny smart pictures that best portray the cars, then you can spot those images over here. This page has been specifically designed for the viewers to show off their cars and also you can put your own description about the pictures here with the right caption. Based on your response, in upcoming days I have planned to keep a photo contest and best photos will be displayed with the title in this page.
Remember:

please do not violate any copyright images and also do not post any links on the description to promote any website. Putting links over here is strictly prohibited. You can post pictures from other websites over here unless it has the sharing rights. Please abide this and post quality and relevant images which do not hurt others in any means.