September 22, 2015 in Art cars, Auto News, New Cars
Car manufacturing companies face a major problem of wasting large amount of money in production, looking for suggestion and solutions to consolidate and eliminate redundancy. Local motor CEO Jay Rogers perceived the same challenge and attacked completely in a different direction. He says manufacturing process of building a car is same from 1915, with thousand of individual parts on assembly lines.
With the idea of changing manufacturing process and keeping cost-cutting as the major factor, local motors came up with a new innovation called as 'strati – a 3D printed car'. This Classic (hot-looking) car was built in amalgamation with Oak Ridge National Laboratory in Tennessee. The strati is a small two-seater electric car.
3D printing can be done in several versions, most commonly used is a laser to form solid objects from epoxy resins to powdered titanium. Local motors used a different method where it can build up objects, mainly one pixel at a time. They demonstrated the concept publicly, where the prototype was same as strati, which had barely 50 auto parts. Two factories, with an employ of 100 each, has scheduled to complete its construction by the end of the year.
The 3D-printed car is crude by design, its flanks, meanwhile, resembling the exposed parts of BMW i3's matte carbon tub. Roger says, some parts of the car look like, it came out of the printer and it can be changed according to their user's requirements. The most important feature of 3D printed car, it can be recyclable by putting a vinyl wrap on it.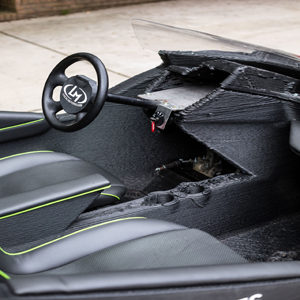 How strati is made?
Carbon-fiber-reinforced plastic is used for printing, a versatile, strong and cheap material, which may have advanced features to enable safety. Printed car is built in layers and each layer is removed from nozzles of the printer. If the tub is damaged, it can be recycled by removing the motor and melting the car.
Roger mentioned "last car which he tested was a McLaren 650S that cost more than $300,000. This strati, lackluster motor could cost $5000. He added, developing countries will love this technology for its reasonable rates with advanced features. Even a rich guy will like it because of its thousand horsepower with having his own choice of design".
The strati took 40 hours to print and local motor company is currently looking for an electric-power train supplier. However, the research is ongoing and they have claimed that, they are working on techniques that could increase printer speed by as much as 500-fold.