November 17, 2011 in Auto News, New Cars, Tokyo Motor Show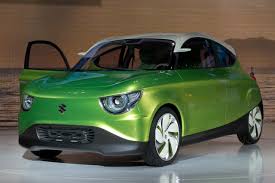 In order to support their place as the world's greenest brand, Toyota Motor Corporation has showcased their short, middle and long term strategy for green cars in Tokyo Motor Show 2011.  To make its vision considering the expectations, Toyota Motor Corporation has showcased their plans for the prospect based on the Toyota iQ. The world first showing of the FT-EV III (Future Toyota – Electric Vehicle is a car based on the iQ is a four seated electric car intended for short commutes of a small above100 kilometers on a completely charged battery in the Japanese JC08 test cycle.
As for a footstep ahead in clean, green competence, the Toyota FCV – R (Fuel Cell Vehicle – Reality and Revolution) idea will be a realistic family sized hydrogen fuelled car with 4.7 meters in length. With the fuel cell unit situated cleverly beneath the particularly designed body shell, the vehicle can contain up to four passengers and space for huge luggage. The fuel cell stack, with a 70 MPa high pressure hydrogen tank has been enhanced to give a cruising distance of just about 680 kilometers.
In the long term planning, Toyota strategy to take out through Fun Vehicle interactive internet concept, where public, cars and society are linked. For India, the thought of electric vehicles and fuel cell technology is still a little left; though, it would be Toyota's vision effort taking shape when it comes to being the cleanest manufacturer transversely the globe.