Newly launched safety research project of Toyota
September 10, 2014 in New Cars by admin
The largest car manufacturer of Japan, Toyota has recently announced to invest 211 crore on its automobile brand to expand safety research on its automobiles. The project is to be conducted at its Collaborative Safety Research Centre (CSRC ) in Ann Arbor, US.
The aim of this mission is to enhance and advance automotive safety features that focus on challenges and opportunities of future security technologies.
The centre's newly expanded mission focuses on delivering safety information to drivers via touch screens and sensors, enabling cars to signal/ communicate each other to avoid collisions. Drivers get instant alert on dangers and will receive more information through their tablets, mobile phones and other touch screen devices.
Chuck Gulash, Director, CSRC, said that this newly expanded mission will bring drivers and their vehicles increasingly work together in sharing more responsibilities on the road. He additionally added that the primary goal of safety research program is that incorporating more advanced safety technology in the automobiles that intend to save lives.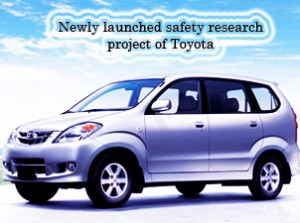 Active safety, driver distraction, risk traffic populations are the other focused research of the centre that effectively protect people from collisions and crashes. Toyota has taken its own pace in stepping into the new advanced security technology that will further more enhance its brand name.